Hal knew "liberal arts math" wasn't exactly for him when he graduated from Carleton in 1967, so he narrowed grad school down to Applied Math at Brown or Purdue CS. Because CS seemed so much more narrow than ApplMath, he chose Brown. Plus, Brown gave him a full fellowship and Purdue only a TA. But the only ApplMath course he enjoyed was Computer Science, a two-semester course open to undergrads and grad students taught by a freshly minted PhD (Andy van Dam). That was Brown's only CS offering, so with Andy's regrets (because he was trying to get a CS degree approved but didn't think he'd make it), Hal transferred to Purdue in 1968. Andy surprised himself and got his CS Dept. approved (and went on to make history in computer graphics and win awards for teaching) — but it was too late for Hal. He had committed to Purdue. Foollish integrity?

Hal had not thought much about teaching but fell in love with teaching CS 220 (99 students 2nd semester) and decided to get a PhD so he could go into academia. But, his was the first class without Draft exemptions, and his fight with his Draft Board was more acrimonious than most, and they put an Induction Notice in his hands before he could finish his MS and begin as a full-time CS instructor (then, draft-deferrable). That MS was earned in 2 semesters (with 6 credit hours counting from Brown), simultaneous with the heavy teaching load, fighting the Draft, courting fellow CS grad student Ruthie Jo Mazur, and enjoying all CS recreational activities. He was so frazzled for induction, he was permanently DQ'd for high blood pressure.

Marriage to Ruth followed in August 1969, and both began as Instructors in CS while Hal persued PhD coursework and exams part-time, passing Qualifiers & his Prelim, working in AI under Charlie Pfefferkorn and after he left, machine learning systems under Terry Frederick until he to left. After 2 years teaching full-time (a highlight was replacing the CS380 programming assignments with a realistic 3-program transaction/reporting/billing system based on a job programming COBOL for the Hecht Co. in DC in summer of '68) and 2 more half-time and a 5th on free money (Thx, Dr. Conte!), Hal left in 1974 expecting to finish and defend his dissertation in absentia. By then Hal had observed the Publish-or-Perish condundrum up close and wasn't sure academia was for him after all. (A small non-research school might have been perfect but few offered CS then.) So, Hal interviewed industry also and both Harts went to TRW — maybe mainly beause TRW was in Sunny Southern California and they both decided they'd had enough of winter. The PhD was never finished...

We have often said those 6-7 years at Purdue were the best of our lives, due to both the great CS teaching/learning environment we thrived in and the many long-lasting friendships we made with fellow CS grad students (overlapping with 3+ generations of MS's). Plus all those extracurricular sports events (remember the Tallest intramural basketball team ever – front line all over 6' 5" ?), QOFATs, picnics, Riehle's runs, bridge-playing … and the first six St. Hart's Days (now up to XLV)!
The Harts joined the aerospace part of TRW (from whence Sam Conte had come to Purdue 12 years earlier) in 1974, assigned first to a field group in Dayton where they developed an early development environment prototype for the new standardized version of the Air Force programming language JOVIAL. In 1976 TRW honored a hire-in promise to bring them home to California. They have lived in the same hillside, ocean-viewing house in Redondo Beach since moving in almost exactly on the Bicentennial, the first and only house they expect to ever live in.
Hal became recognized as a programming language expert at TRW, but that wasn't saying much because High-Level (-Order) Languages were just starting to be used in practice in most defense systems and Purdue had provided him lots of HOL knowledge. He continued on the Technologist side of the business (i.e., non-fast-track, non-big-project) most of his career, moving from languages to environments to process technologies and lots of training. Almost half his career he "managed" small technology contracts which effectively meant he was the principal investigator for small support-contractor teams supporting government technology or standards activities. His passion became the new Ada programming langauge, and later the integrated environment initiatives the Ada initiative triggered.
Because Barry Boehm thought Hal represented TRW well in public, he was given a long leash to participate in industry/ government/ international language (JOVIAL/Ada) & environment standards activities, as well as broad software engineering professional society events. He wrote articles, presented papers and invited talks, organized panels, or gave tutorials approximately 100 times at conferences, workshops, standards committees, etc. in the U.S. and Europe. But he maybe even more enjoyed the discipline of event organizing and was often drafted into organizing roles, from conference/workshop chair to treasurer to local arrangements. This included roles for several ACM SIGSOFT and a few SIGPLAN conferences, plus a 20-year stint on the SIGAda (formerly SIGPLAN AdaTEC) executive committee – two terms as SIGAda Chair.
Hal can not find all the company/government/professional-society citations and awards he received for technology achievements (where are those storage boxes now?), but he's sure they numbered exactly the average number of awards earned by Purdue CS grad students of his era.
Hal & Ruth retired in 2005, having common interests in travelling the country and the world (sixth continent being checked off this year), peer-led/peer-organized learning in retirement (Omnilore) where both got sucked into too many key posts and thus spend too much non-class-related time, and as of 2011, Geocaching which fits in well with both travel and hiking — Rich Ragan mentored us on our first day to a still-record 13 caches. Separately, Hal golfs once or twice a week (walking most courses) and has been crew-leading, instructing, and safety organizing for our large Habitat for Humanity of Greater Los Angeles affiliate since 2000 – both surprising for a senior citize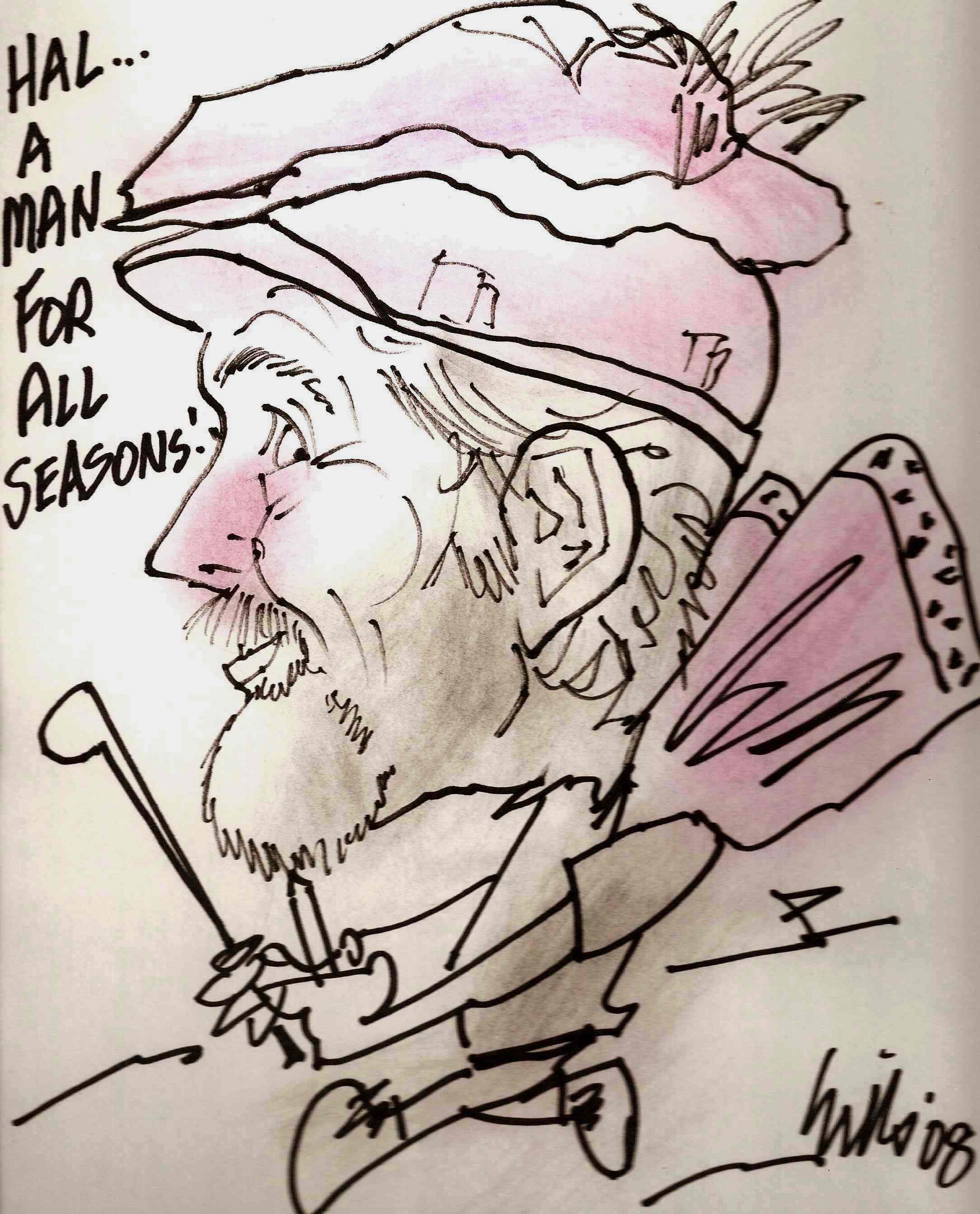 n given he has worn out his left knee twice (probably from jogging & basketball most of adult life and hanging on to his beloved softball team Grunion'77 until getting hits for the same team in 5 decades, plus poor joint genes?). That knee was replaced in 2002 and 2010. Ain't modern medical technology amazing? He is proud of serving as Safety Chief when we hosted the 2007 Jimmy Carter Work Project — blitz building 30 homes in a week with 2000 people from around the world; his photo with Jimmy is still his Facebook profile pic. Bring on those roofs and ladders! Hal also does amateur websites (incl. Hart-site.net) for almost every organization he's involved with. St. Hart's Day (always the Sat. closest to Feb. 14) is our only social hosting—reserve Feb. 17, 2018, to attend the 50th St.H Day! (Or should we make 50 years after #1 the big one?)

Hal & Ruth's older daughter Erika followed in her parents' footsteps by becoming a software engineer (BS CS from Brown – turned on to the field by Andy van Dam exactly 30 years after he turnied on Hal). Their younger daughter Alison works for Habitat for Humanity of Greater LA in public policy and community engagement. Neither is married. We count the dozens of cats over the years (just two now, both rescued Siamese) only as "children," not "grandchildren."