December, 2014
Happy 2015 to Friends and Family Everywhere,
Last year, for the first time in many years, we didnÕt send out holiday cards. No real reason except that we returned from New Zealand the day before Thanksgiving and before we knew it, the holidays were upon us. The letter was mostly composed. So here are our highlights for both 2013 and 2014, mostly centered around travel. 2013 was also a milestone year for us Š 50 years since we graduated from high school!
Travel: 2013 was a particularly heavy year for travel, especially in the summer. From the beginning of June through the end of August, it seemed we hardly had time to do our laundry before heading out again. We also traveled in 2014, but not as extensively. Here are the highlights:
2013:

April: We traveled to West Lafayette, IN to attend the closing weekend of the 50th anniversary of the founding of PurdueÕs Computer Science Department Š which most people agree was the first in the nation. Several of our friends from the very early days also attended, including some we hadnÕt seen since the 70s, and we had a good time reminiscing about the Ņgood old daysÓ.
June: We took a road trip from New York to Michigan, which we realized was really a trip through time. We started in New York, celebrating (on the same day!) the 100th birthday of one of RuthÕs uncles and her 50th Hunter College HS reunion, which was attended by several elementary school and Cornell classmates as well. We then drove to Princeton, NJ, where we stayed with one of HalÕs elementary/HS friends for two nights. On to Columbus, OH, where we had dinner with grad school friends. We ended up in Troy, MI, just outside of Detroit, where we stayed with TRW friends who now live there and met up with a dozen or so of RuthÕs virtual friends, some of whom she has known online for over a decade.

July: We celebrated RuthÕs youngest auntÕs 80th birthday in New York, before flying to Europe, where we took a wonderful 9 day cruise of the Baltic Sea, visiting (in order) Copenhagen, Warnemunde (Germany), Tallinn (Estonia), St. Petersburg, Helsinki, Stockholm, and back to Copenhagen, where we stayed for 5 additional days. We found geocaches in every country we visited. In Copenhagen, we had just been seated at a sidewalk cafˇ next to an American woman and her teenage daughter, when the woman turned to Hal and said, ŅI think I know you.Ó And she did Š they had been coworkers on a Government/Industry project 22 years earlier! It truly is a small world!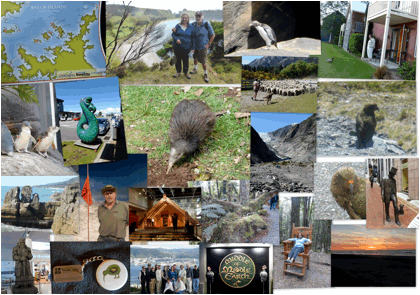 August: We had barely recovered from jet lag when we flew back to Indiana to attend HalÕs 50th Valparaiso HS reunion and shortly after we returned from Indiana, drove to Las Vegas for our annual anniversary week at our Polo Towers timeshare there.
November: We finished up the travel year with 17 days in New Zealand. It was spring and everything was in bloom, the weather was almost perfect, the scenery spectacular, and the people friendly. More than once, we remarked that Ņwe could live here,Ó though it was very expensive. One of the best things was that there was only a 3-hour time difference from California (technically, 21 hours), so it was no harder on our bodies than traveling to the East Coast or Hawaii.
On to 2014:

May: Our first major trip of the year was a road trip to the southwest, with multiple days in Taos, NM and Sedona, AZ. In the process, we remembered how much we love Sedona and vowed to return for a few days every year. We hardly noticed the wildfires that were burning just north of there; they didnÕt prevent us from visiting TRW friends Steve & Sheila Jacobs just outside the evacuation zone. We also visited TRW friend Denise Huntington, who now lives in Cottonwood, south of Sedona. One highlight of the trip was the day in which we geocached in 5 states Š New Mexico, Texas, Oklahoma, Kansas, and Colorado.


July: On our first ever European river cruise, we journeyed on EuropeÕs greatest and most historic river, the Danube from Budapest to the Black Sea, preceded by 4 days in Prague and followed by 3 days in Transylvania (Romania) where a highlight was visiting Bran castle (aka DraculaÕs Castle Ń photo at bottom right). In all, we visited 7 Eastern European countries and (again) geocached in them all! It was interesting to see how ŅwesternÓ these former countries of the Soviet bloc have become (or Ņbecome againÓ after 50 dark years). Although some are struggling economically, they have benefitted by retaining their own currencies.
August: We returned to Las Vegas for our annual anniversary trip, this time accompanied by TRW friends Rich and Rita Trott, with whom we first traveled to Las Vegas in 1977!
Other: Not much else has changed in our lives Š at our age, thatÕs a good thing! We geocached everywhere we went; a new domestic travel goal is to find at least one geocache in all 50 states. WeÕre already up to 24 states (+ 19 foreign countries), including Alaska and Hawaii, so itÕs feasible. We also continued our involvement in Omnilore, our unique learning in retirement organization. Hal is the webmaster & equipment manager and coordinates the very popular Shakespeare group. Ruth serves on the Curriculum Committee. We continue to take an eclectic set of classes and continue with the monthly hikes. Hal also plays golf 1-2 times a week and volunteers for Habitat for Humanity. Ruth spends far too much time on the computer, but finds time for yoga and the League of Women Voters. Alison lives a block from the beach in Hermosa Beach, about 10 minutes away. Erika still lives in Providence, although is hoping to sell her house and move back to California soon. No grandkids, but 4 grandcats (2 apiece); we have shared custody of AlisonÕs, ErikaÕs are here for the holidays. Alison also has Bella, the worldÕs smallest Chihuahua (almost, at 2.7 pounds). RuthÕs mother Helen celebrated her 94th birthday in October and is healthy and alert in an assisted living facility in New Jersey. RuthÕs sister Peggy lives nearby; she and Harry provide the local assistance, which is not always easy, and we appreciate everything they do.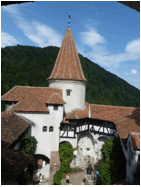 Upcoming:
St. HartÕs Day XLVII will be on Saturday, February 14, 2015 Ń visit Hart-site.net to link to your invitation (and to link to a webized version of this letter with larger photos). We hope to see many of you there. We also have back-to-back river cruises in France planned for April/May and will probably take a geocaching road trip to the Pacific Northwest.
Hal, Ruth, Erika, & Alison Hart